When you are updating your home, you will want to stick to some of the latest trends to have a stylish new space. Not every trend works for you but you can find something trendy that can work for your space and personal taste. From different styles of flooring to types of colors, there are a few different ways to welcome summer into your home. Here is a look at some of the top summer interior design trends for 2019 that we're seeing this season. 
Linen
One of the great things about linen is that this is a timeless fabric. However, recently there has been a surge in popularity for this fabric. A reason for that is because linen is an eco-friendly, as it is made from fibers of the flax plant. Linen can add a cool feeling to your home, especially when used as curtains, tablecloths, throw blankets, or napkins. This is also a very low maintenance fabric, since it's machine washable if you do choose to incorporate it in the form of a tablecloth, blanket, or napkins. 
Wider Plank Hardwood Floors


For interior design tips for your floors, wide plank hardwood floors are the best option for you. Wide plank floors not only look aesthetically appealing, but they can also make the space look bigger. Wide plank flooring is one of the most popular options out there right now for many different reasons. If you have a modern home, you can select wide plank hardwood floors and flooring treatments that accentuate the contemporary look of the space. With older homes, you can use wide plank flooring to create a more rustic and authentic appearance.
Splashes of Bold Colors
Neutral colors can make a place seem a little boring, but by adding splashes of bold colors to the space. This could be through adding boldly colored throw pillows or a bold pattern on a lamp shade. Depending on how bold of a look you are really going for, you can even create an accent wall with a bright color. Bold colors offer a pop of personality in the space, something that can make the place feel more energized and refreshed. 
Raw, Unfinished Elements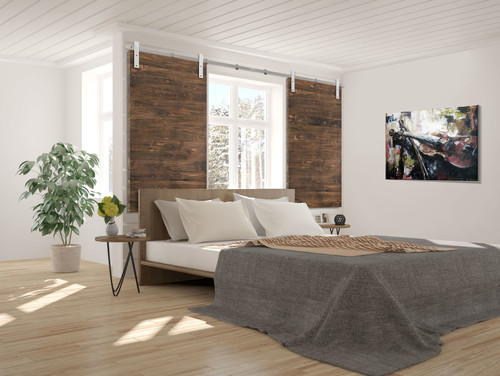 Your floors aren't the only place where you can go for a raw, unfinished look. You can also extend this look to other areas. For instance, raw and unfinished rustic interior shutters not only are function pieces in the space but they can last for a long time. There is a reason why this look is so attractive: it's timeless. It can add a pop of rustic in any space and it often gives the space a little bit of edge to it. No matter how to change the space, these will still fit in with any design scheme.
Open Shelving

Something else that we are seeing a lot of right now is open shelving. This allows people to have decorative pieces that actually function in the space. You can put your dishes, glassware, and anything else on display for everyone to see. This is not only a valid storage option; it also let's these items double as décor in the space. Open shelving can lend a space more of a breezy, spacious feeling.